UI UX



Tools
Adobe XD
Adobe Illustrator
Surplus is a project designed to be a part of the RMIT Adobe UX Awards; an app that communicates two United Nations Sustainable Development Goals (SDGs) – Zero Hunger and Responsible Consumption and Production.
Surplus suggests you correct portions for recipes that suit your palette. It also helps you manage your pantry, leftover food and allows you to add your own recipes. It also offers you the option of replacing unavailable ingredients from pantry while you cook.
Branding
The name for the app 'Surplus' comes from the need that it serves – to manage excess or surplus amounts of food in the form of leftovers or items that sit idle in the pantry after one or two uses. Surplus's colour palette is carefully put together taking inspiration from various colours brought through various food items on one's plate.
Elements
The main element of the branding is a sapling – which is analogous to going green and choosing sustainability. The shape also represents various herbs and vegetables. "This element is the main identity of the app and hence is the app icon. It also is animated to appear in headers on every page.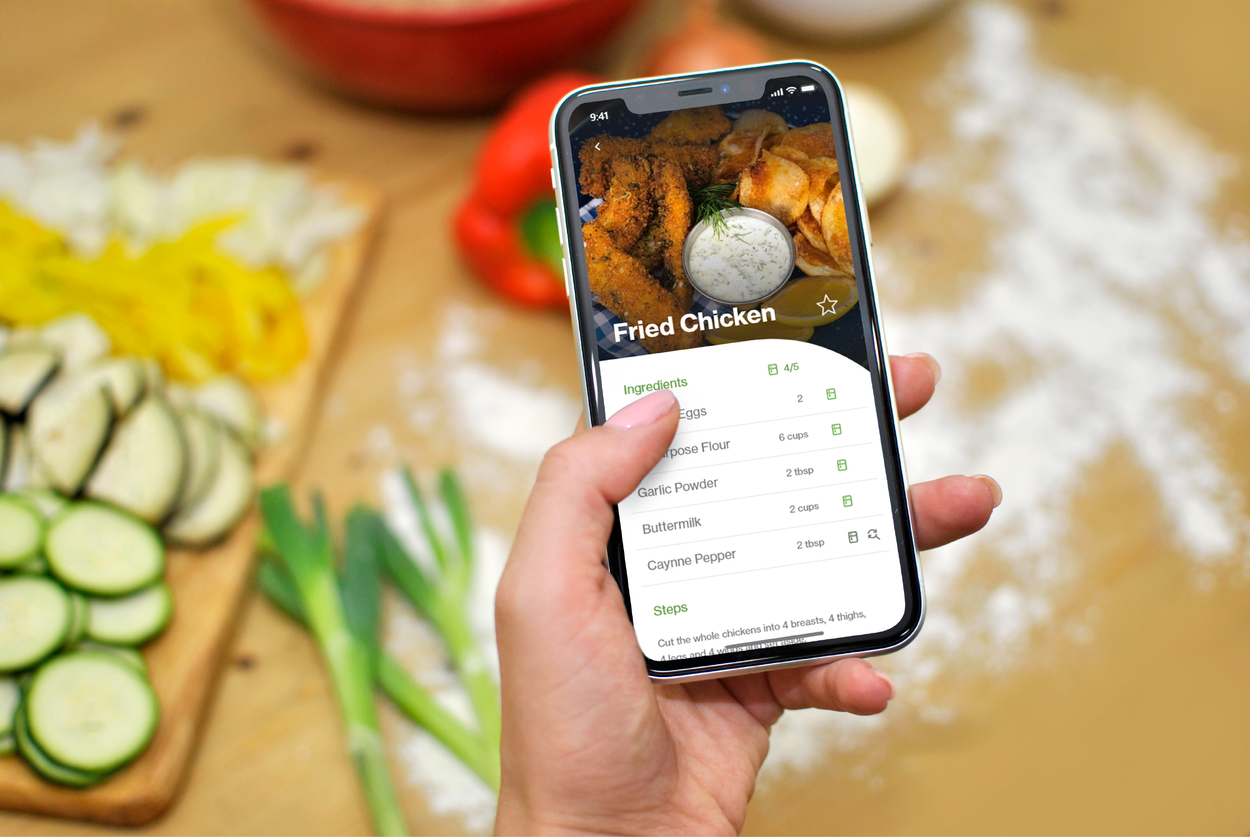 Target Audience
The app is designed to be fun, friendly, and fast with navigation to suit its users who are largely students and young people living alone.
Information Architecture
The app has four navigation areas – Setup (First time user), Cook (Landing Page), Pantry and Profile; each separated by their own colour to make it easier for the user to distinguish them
A friendly AI that gives you a tailored experience.
When you first install the app, it will require you to set up your preferences including the cuisines you prefer, your portion size, dietary choices, allergies and the foods you dislike. This will help the app suggest user tailored recipes. This section is particularly designed keeping the user in mind. The app personifies itself as a friendly AI and helps you get through the tedious process of answering a bunch of questions without getting bored.
Adding items in your pantry is as simple as taking a photo.
Knowing your ingredients is vital to the app. This page lets you add new items to your pantry and view existing items and edit them. You can scan your entire pantry using Surplus' AI. The app will automatically recognise the items and lets you edit them after the scan. You can also input the ingredients manually if you choose to.
Cook from your leftovers or pantry ingredients and replace items to adjust the recipe.
This page lets you choose to cook from pantry ingredients or any leftovers from the previous day. You can also navigate to add and view your own recipes or view previously starred recipes. The page also shows your recipe statistics according to the ingredients in your pantry. When you select a recipe, you can see the photos, ingredients, and steps. You can easily replace the ingredients you don't have with the ones in your pantry. The main reason behind personalisation of recipes is to reduce wastage by tailoring it to suit your palette. This process can further be enhanced by letting the users input their own recipes that they like. The AI facilitates customised interactions for adding ingredients or alternatives for each item. Adding photos ans steps is just as easy as any other popular application.
Join the fight to end hunger through donations.
What makes Surplus a noble app is that it gives the users an opportunity to donate to major food crises across the world through a trusted channel – United Nation's World Food Programme. The interface allows you to choose your specified goal and the amount you want to donate.