UI UX Design
Branding
Speculative Design
Product Design

Tools
Figma
Adobe Illustrator
Miro


"The Moment" aims to provide a wholesome experience of an intimate time sharing and food experience that provides opportunity for you to communicate with your loved ones and new people all across the world through just your home.


It is a home delivered kit that integrates aspects of product design and an interaction design through eating utensil designs and an interface to interact with your friend, and the restaurant.

Nadiminti Sarvani
UI/UX lead, Branding team

Yuansheng Shi
Branding team

Diego Toledo
Branding lead, UI/UX team

Aidée Yańez
UI/UX and Branding team
Marek Asamoah
Product design team

Dirk Erdmann
Product design team

Noa Zeevi
Product design team

Maya Almagor
Product design team
The problem
20 years in the future, technology develops to an extent that most jobs like transport, agriculture, production, education, etc. are done by machines with AI capabilities. This results in a society that doesn't require most humans to work as there are limited jobs in law making, science and arts.

Humans have plenty of time in their hands but not much to do with it as their basic needs are taken care of by artificial intelligence prevalent everywhere. This leaves them quite vulnerable to social isolation, lack of sense of belonging, self-esteem and actualization.
To help solve the issue, we took advantage of globalization, which has become an intrinsic part of our lives, erasing the concept of physical distances in the future. Leveraging the idea of getting together with people from different environments and locations to create a shared experience that involves the act of eating and sharing a meal, a central part of life in all cultures; "The Moment" - a time sharing and food service design concept, was designed.
Branding
While coming up with the brand name for the service, we were intrigued by the significance of the warmth that we feel while spending quality time with our friends. The feeling arises when we seize the moment, a phrase popularly known as carpe diem. This led to the brand name "The Moment".

The logo is inspired from four elements - location, people, connection and condiments.

The colour palette is a mixture of dark grey that relates to elegance and simplicity, deep red that resembles the warmth of wine and light grey which provides a good contrast and a calmness. The typography for this project is a combination of the fonts Tropikal bold and Rubik.
Interaction Design
To give a seamless experience of "The Moment", we've designed an interface that allows people to make reservations for the experience, look at past and upcoming moments and also interact with the other person and the restaurant while they're experiencing the moment.

To begin the experience, you log in and create your profile by entering your personal details, the languages you speak, your food preferences, favourite games, music and general interests. This lets "The Moment" give you a personalised service.

To make a reservation, you can choose the friends you want to have the moment with or try and meet a new person. Once you do that, you can then schedule a date and a time to meet them. You can also see the time zone your friend is in to help make a better time choice.

While viewing your past moments, you can review your memories in the form of photos, and videos you took together and see a log of the food you ordered together.

You can view your upcoming moments to keep a track of the moments that you already made a reservation for.

Before you start the moment with someone, you'd be asked to make your setup ready. This process involves opening your kit, aligning your table mat and utensils correctly and checking your microphone and video settings.

Once everything is set up, you can see your friend on your screen. On the left of your screen, you can navigate through the interactions menu that helps you see their profile, launch games with them, listen to music and do other activities.

On the right, you can interact with the restaurant by either having a shared ordering experience that provides the option to split your meals and get only a portion of it delivered to you, and the remaining to the others. You can also customize your order the way you want.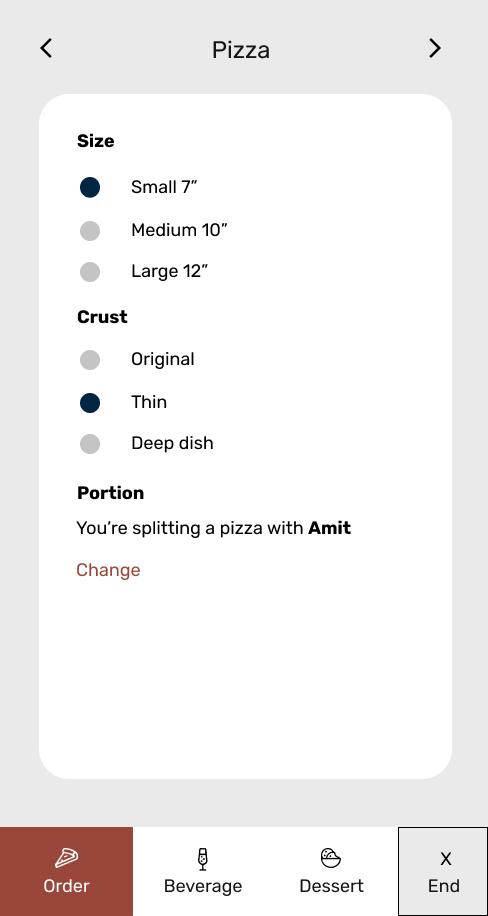 The Moment gives a shared cooking experience through beverage making where you can make easy recipes together and have some fun. You can also send a custom surprise dessert to your friend and leave them a short and warm note.
Product Design
The main value that led us in designing the related products for "The Moment" service was to create an intimate and relaxed experience. The question was asked - how can tableware make people feel safe and emotionally open?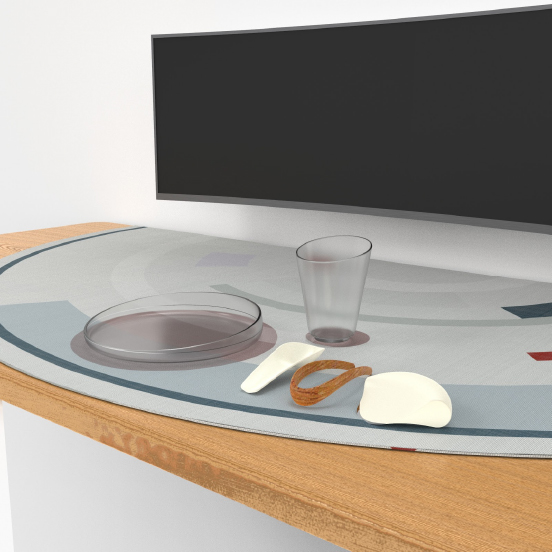 Studies in psychology show that when we touch warm objects and pleasant textures, we are more relaxed and feel positive emotions. We interpret the people around us as more accessible and accepting. Therefore, we have designed tableware that invites users to hug them. This way users get closer to the food and experience it in a more sensory way. They are exposed to more colours, textures, smells and a variety of heat sensations. Apart from creating intimacy the proximity to food also burns a stronger memory, which is important in creating and maintaining meaningful relationships.

We choose to use soft contour and shape is designed to be visually inviting and comfortable to use, while offering a dynamic, futuristic look. Another thought that has led our design is the custom of people to adjust their eating pace to each other. That is why we chose to design the glasses, plates and bowls from glass. This way users can enjoy the visibility of their dish and also subconsciously see the eating rate of their meal partners.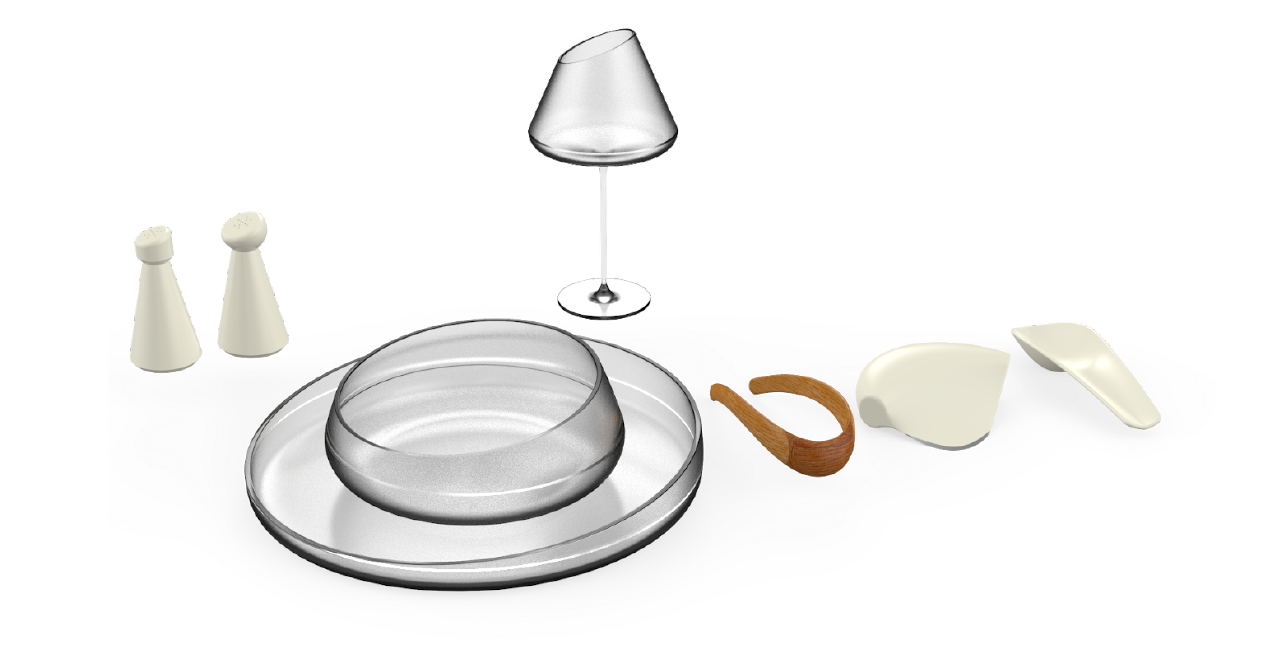 The cutlery was designed out of the desire to bring the diner as close to the food as possible. Another goal was to produce a sensory and playful eating experience. To achieve these goals, it was necessary to rethink the traditional use of a knife, spoon and fork.
The handles were shortened or disappeared completely, which completely changed the grip. The fork was replaced with tweezers that function more like chopsticks.

Out of a desire to create an experience of a shared environment for distant participants, a tablecloth was designed. Each user is given a tablecloth in the shape of a semicircle while the other half is with the other user. The choice of a round tablecloth stems from the fact that a circle is a symbol of wholeness.

The circular lines in the two halves of the tablecloth connect in the physical and virtual world and thus create visual continuity. To enable the union between the two worlds, physical and virtual, users are required to set their table in the same way. Therefore, in each half of the tablecloth there is a graphic marking indicating the position of the plate and the glass.